Because of GoDaddy's relentless and provocative commercials, it successfully carved out brand recognition for itself in the web hosting space. But is name recognition enough? Is GoDaddy good, even?
While it does a solid job of being easy to use and relatively intuitive for tech newbies, GoDaddy Web Hosting is a bit lacking in terms of resources, features, and pricing.
Things like SSL certificates and data backups are surprisingly not included standard with its plans, nor does it offer cloud hosting. GoDaddy does have Windows-based hosting, however, which is something that sets it apart.
Further, it employs an introductory pricing model, with renewal prices increasing quite a lot. When it comes to speed and uptime, GoDaddy reviews consistently test GoDaddy at below industry average.
Who is GoDaddy Website Hosting for?
GoDaddy is a good option for web hosting beginners, as it is relatively intuitive and uncomplicated. The hosting cPanel and site management are straightforward, so you don't need extensive tech knowledge to get started. If you need Windows-based hosting, GoDaddy is one of the very few hosts that offer that specifically.
You should set aside part of your budget for extra fees because if you're looking to host here, GoDaddy's hosting pricing tends to run higher than most other competitors. Many features aren't standard with its plans and will need to be added on at a separate cost.
GoDaddy Website Hosting's features
Features help raise website awareness and make websites profitable, so having a solid offering is imperative. GoDaddy has a few standout capabilities, but the fact that many features come at an additional cost on an already expensive pricing model makes creating a complete hosting suite a bit tough.
Website builder
If you haven't already built your website, GoDaddy does have its own web builder (for an extra monthly cost, starting at $9.99 per month, which is in line with external web builders). It is pretty basic, making the process of creating a site relatively simple. You have dozens of templates to choose from that you can easily tweak and add content to. Once live, it also helps with managing online reviews, engaging customers, etc.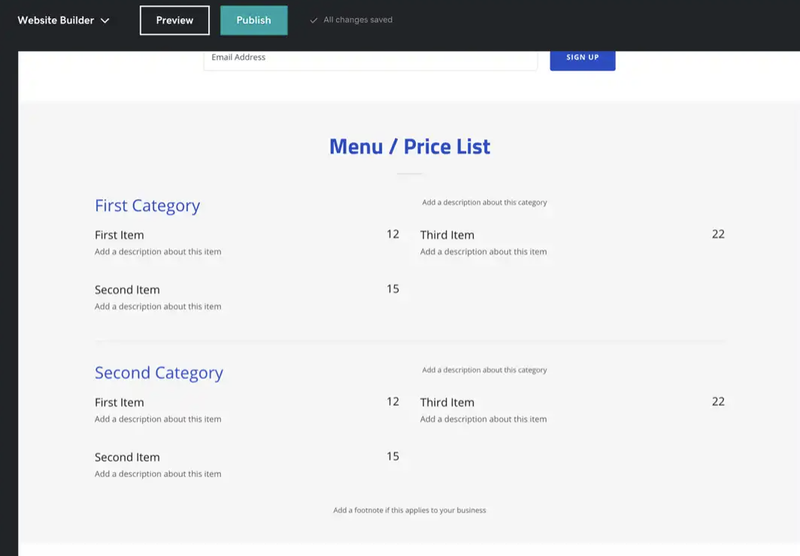 Intuitive control panel
No GoDaddy.com review would be complete without mentioning its cPanel, which is easy to navigate and includes industry-standard links to install apps and manage hosting.
1-click domain setup
It's easy to get up and running with a domain when using one-click setup and registration.

Quick app installs
It is equally easy to install extra apps and features with a single click.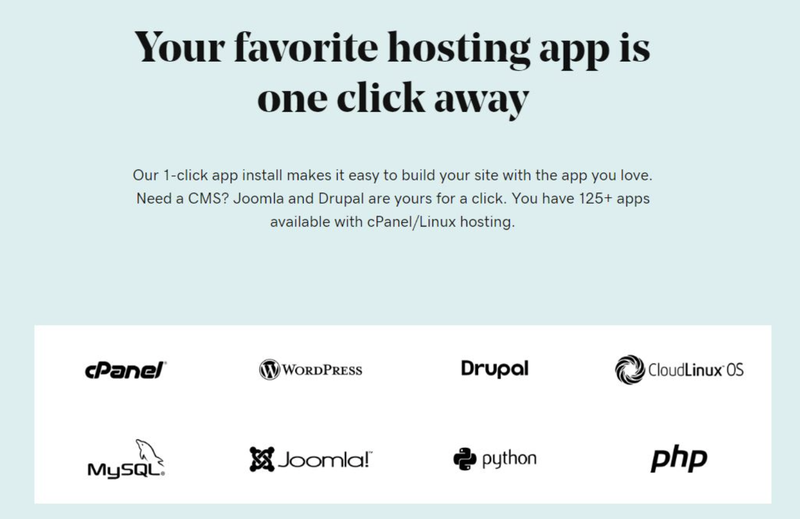 WordPress integration
GoDaddy is optimized for WordPress sites, with easy integration and setup for higher WordPress performance.
SEO consultations
GoDaddy offers professional consulting on SEO and helps with raising search engine ranking as an extra you can add on to your plan.
GoDaddy Website Hosting's ease of use
Where GoDaddy really shines is in its ease of use. It has an onboarding period, for starters, that sets you up for success. Installing apps and setting up your domain is done in a simple, single click.
Plus, the dashboard and back-end navigation is very intuitive and not at all confusing for a tech newbie.
GoDaddy Website Hosting's pricing
Pricing for GoDaddy is calculated at a monthly rate, with an introductory rate for all plans. Be aware, though, that your pricing will increase at renewal.
Additionally, many features come at an extra cost. For example, SSL certificates are only included with the most expensive plan (Maximum), but only for a year. Site backups are not free, and you'll have to add it as an extra service for a fee.
The Economy plan is for hosting a single website with a storage cap of 100 GB. It starts at $5.99 per month and includes a free domain, email, and theme templates.
The Deluxe tier starts at $7.99 per month and lets you host unlimited websites and increase your databases.
The Ultimate plan has much higher bandwidth and storage for $12.99 per month and offers a premium DNS. The Maximum plan starts at $19.99 per month and increases your performance and bandwidth. Yes, it gives you an SSL certificate, but be aware that it is not included anymore after your first term.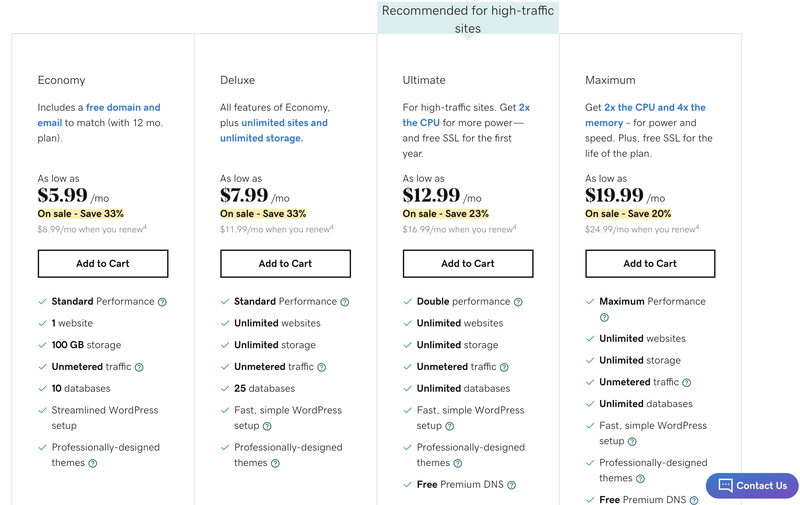 GoDaddy Website Hosting's support
GoDaddy's customer support representatives are renowned for providing phenomenal support and having a fast response time. Help is available 24/7 and can be reached via live chat or phone.
However, when it comes to online learning and self-help, GoDaddy is severely lacking. There is no traditional knowledge base or curation of online articles and how-to videos, nor is there a support article search feature.
If you happen to find a relevant article, it is usually clearly laid out, but it is the finding and accessing that's tricky. And, while GoDaddy offers community forums, the content is unmoderated, so many questions go unanswered or are answered incorrectly.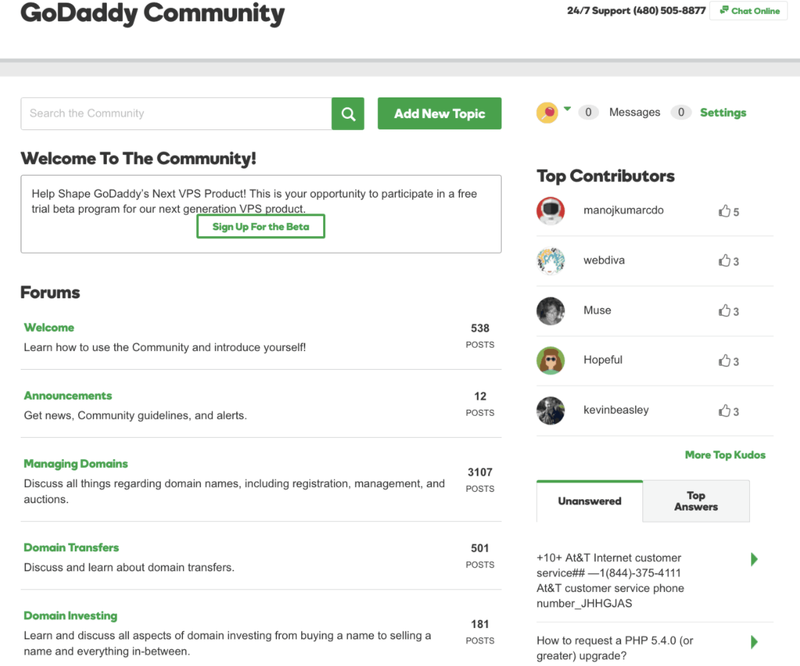 Benefits of GoDaddy Website Hosting
While this GoDaddy hosting review does point out some of its flaws, there are also several benefits. For starters, it offers a unique Windows-optimized solution, the customer support representatives are excellent, and its interface is incredibly easy to navigate.
Can you do better than GoDaddy?
Honestly? Yes, you can. For the higher pricing point, GoDaddy just doesn't offer enough standard features to make the argument for it against other competitors.
https://www.fool.com/the-ascent/small-business/web-hosting/godaddy-web-hosting-review/