Two minute review
Solid state drives (SSDs) might get the limelight most of the time when it comes to external storage options but don't discount external hard drives just yet. The Silicon Power Armor A66 shows that there's still plenty of life in the mature technology even if it is becoming increasingly difficult to pull out interesting selling points. But this one has a few: it is the most affordable, high capacity, rugged hard disk drive at the time of writing. It is relatively fast thanks to its higher platter density (compared to smaller hard drives) and other than the lack of IP68-rating (it is only IPX4 rated) and the odd choice of a Type-A to Type-A USB cable, the A66 remains a very good choice for whoever wants an additional layer of protection for their data when moving around.
Silicon Power Armor A66: Pricing and availability
You can buy the Silicon Power Armor A66 for just under $130 from Amazon US (5TB). The 4TB retails for $114.99 while the 2TB costs only $68.99. The 5TB has the lowest price per TB which makes it by far the most interesting of the trio. It is available in blue only and comes with a three-year warranty.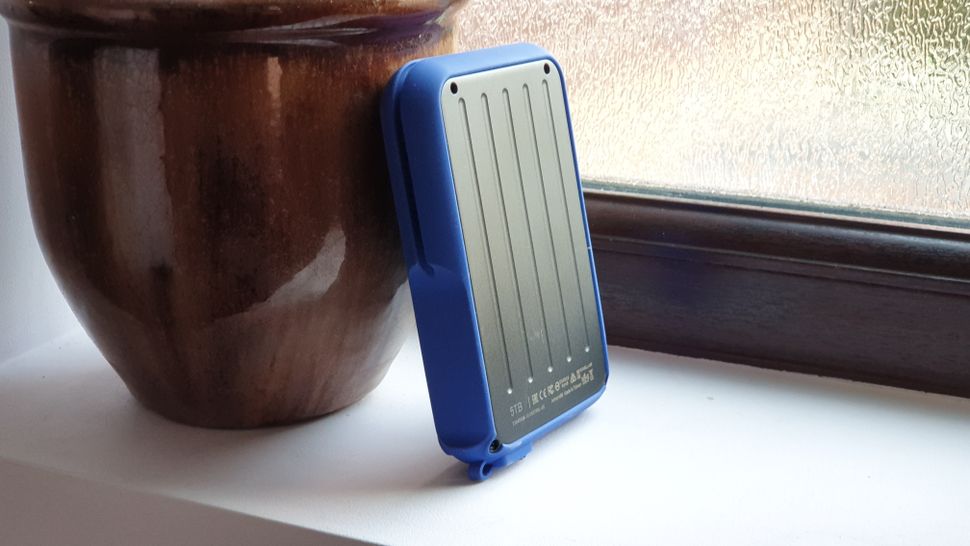 Silicon Power Armor A66: Design
Male-to-Male Type A cable
IPX4 rating
Like most rugged hard disk drives we've covered in the past, Silicon Power embraces rubber and silicone as materials to build the A66. Doing so ensures that the drive is easy to hold, resistant to shock, scratches, does not rust and is relatively cheap to produce. At 139mm x 96mm x 24mm for a weight of 328g, it is compact enough to be carried around with a notch that houses the bundled USB cable snuggly.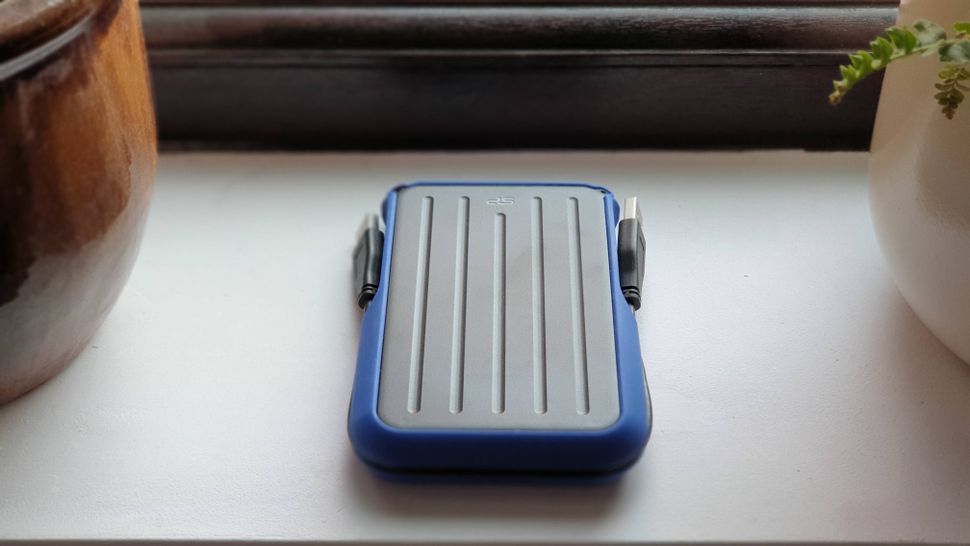 Surprisingly, Silicon Power saw fit to include a Type-A to Type-A cable which is all good until you look for a replacement. These sadly, carry a significant premium.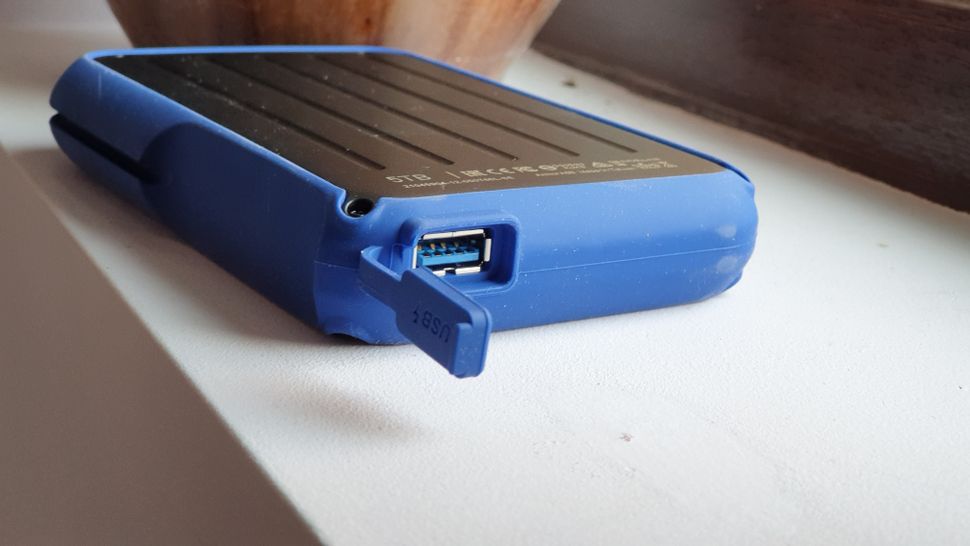 A rubber flap hides a connector (USB 3.2 Gen1) and we didn't see any activity LED. Note that while it meets U.S military drop-test standards (so-called MIL-STD-810G), it is not fully waterproof (IPX4 rating only).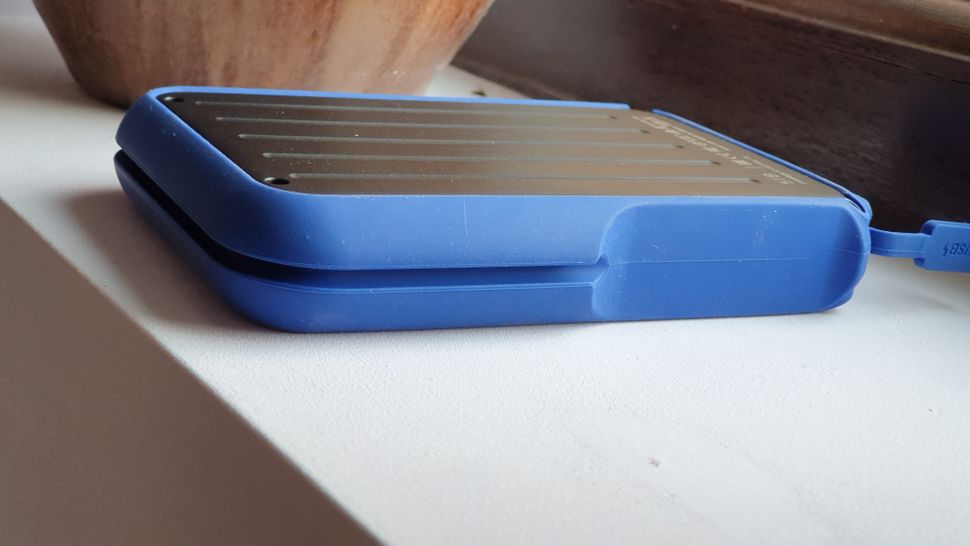 Silicon Power Armor A66: Hardware
5TB is the highest capacity reached by hard disk drives in this form factor (2.5-inch) and we believe that this barrier won't be breached anytime soon as there's no commercial imperative. Given the fact that Silicon Power doesn't manufacture its own hard disk drive, there can only be two sources: Seagate and Western Digital. According to CrystalDiskInfo, it is a Seagate Barracuda (ST5000LM000) with five platters, 128MB cache and a spinning speed of 5400RPM. The bare drive weighs 190g which means that the chassis adds about 140g.
Silicon Power Armor A66: In use
No bundled software
Good all rounder
Benchmarks
Here's how the Silicon Power Armor A66 performed in our suite of benchmark tests:
CrystalDiskMark: 143MBps (read); 132MBps (write)
Atto: 132MBps (read, 256mb);  135MBps (write, 256mb)
AS SSD: 136MBps (seq read); 131MBps (seq write)
AJA: 120MBps (read); 125Mbps (write)
Silicon Power doesn't provide any software package (cloud storage or encryption software) with this device which is not a big deal per se but always nice to have. Other than a PDF brochure and a link to a registration page, there's nothing else loaded on the A66.
When it comes to performance, it is faster than other external hard drives we've tested in the past, partly because it has more heads and more platters than smaller capacity drives and a bigger cache. CrystalDiskMark reports speeds of 143/132MBps in sustained read/write speeds with the transfer of a 10GB file yielding a real life transfer rate of 133MBps. Not too shabby at all.
Should I buy the Silicon Power A66?
Also consider
The Adata HD830 is fully IP68-rated with a body that has been tested to withstand pressures of up to 3000 kg. It can also remain submerged in two meters of water for up to two hours. Just bear in mind that it is a tad more expensive than the A66 and weighs significantly more.
The iStorage diskAshur2 is not IP68 rated; It only achieves IP56 and costs almost thrice as much as the A66. However, it is not only rugged but also secure with a numeric keypad that allows your data to be fully encrypted using AES-XTS 256-bit hardware encryption (no software required).
First reviewed April 2022
https://www.techradar.com/reviews/silicon-power-armor-a66-5tb-external-portable-rugged-hard-drive